This May, GC Energy Services, a division of Gulf Copper and Manufacturing Inc., celebrated a significant milestone event. As of April 2017, GC Energy Services has worked three consecutive years without an OSHA recordable incident. The effort and focus of the employees to reach this point, and strive for no incidents or accidents is a pleasure to observe. When teams recognize their achievements, their pride deepens and shows outwardly. A safety culture may not be nourished without pride. This year we celebrated with team from our NDT group providing the employees of Gulf Copper Energy Services and Gulf Copper Dry-dock and Rig Repair with  a fish fry in Galveston Texas, and the fish was as good as the fish fry's we had near Taylor Bayou, Port Arthur when I was young. The fish was freshly caught by one of our team members in Galveston Bay. The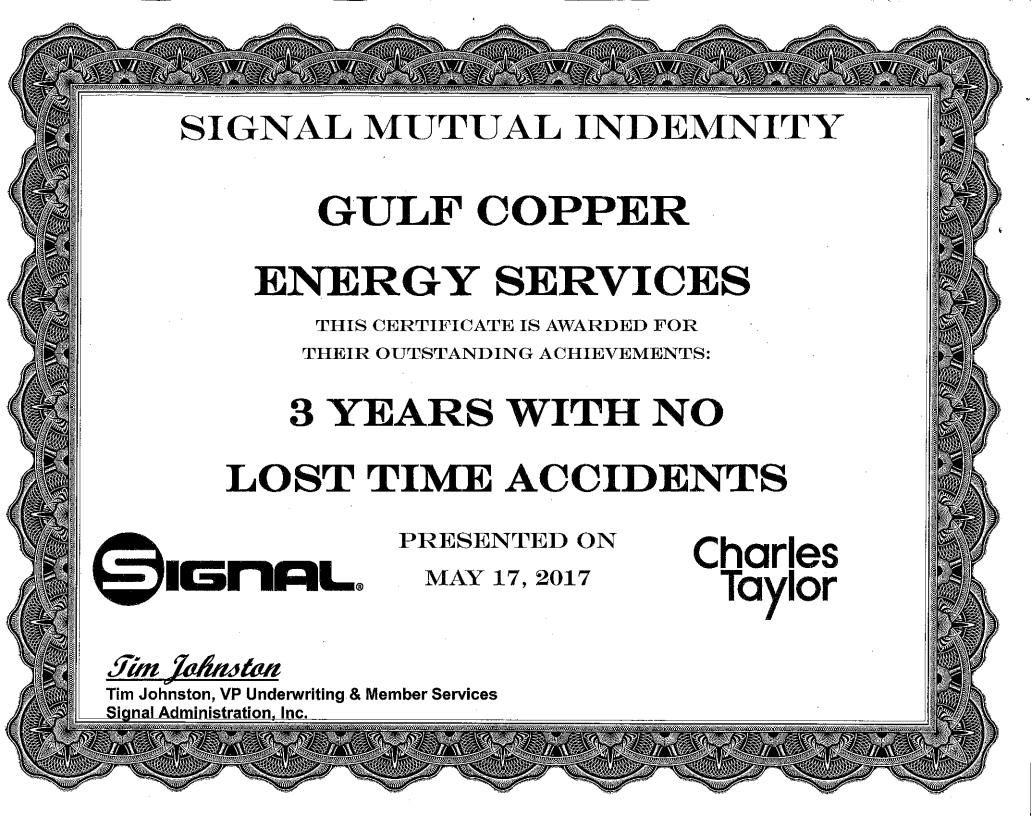 All of us at GC Energy Services can be proud of the no incident achievement. To build on this trend we will continue to focus on leading indicators such as safety training, safety observation reporting, job risk assessment participation, and job site safety audits. Developing a harmonized team of professionals performing these activities in a conscientious manner will deliver continued safety success.
Two other Divisions at Gulf Copper have had similar milestones with their safety records; Gulf Copper Ship Repair Inc., in Corpus Christi Texas, and Sabine Surveyors Inc.,  head office in New Orleans Louisiana, each achieved three consecutive years without a lost time incident. Congratulations to everyone at GC Energy Services, Gulf Copper Ship Repair Inc., and Sabine Surveyors Inc., keep up the good work! All three divisions were recognized by Gulf Copper's workers compensation underwriter Signal Mutual Indemnity Association. Signal was established in January 1986 to meet the demands of multiple industries for reasonable and stable workers' compensation insurance rates, and is the largest self-insured group provider of Longshore benefits in the United States. Signal is a strong promoter and supporter of servant leadership safety culture and provides an array of industry specific safety training to its members.
GC Energy Services provides offshore services for clients around the world.  Providing low pressure and high pressure pipe fabrications and repairs, steel structure fabrication and repairs, electrical repairs and installations, scaffolding services, non-destructive testing, hull gauging, and environmental services. We can mobilize quickly from either of our locations in Galveston or Ciudad del Carmen, Mexico, where we also have light fabrication facilities. GC Energy Services is a division of Gulf Copper & Manufacturing Corp supported by Gulf Copper fabrication facilities in Port Arthur and Galveston for larger fabrication projects.
Founded in 1948, Gulf Copper & Manufacturing Corporation is an employee-owned company that repairs and refurbishes marine vessels and offshore rigs and fabricates specialty components for the oil and gas market. The company operates strategically located shipyards, drydocks and fabrication facilities along the U.S. Gulf Coast. Gulf Copper serves the marine transportation, offshore construction and offshore drilling markets in addition to various United States government agencies.
Be safe in all that you do,